To relaunch a classic design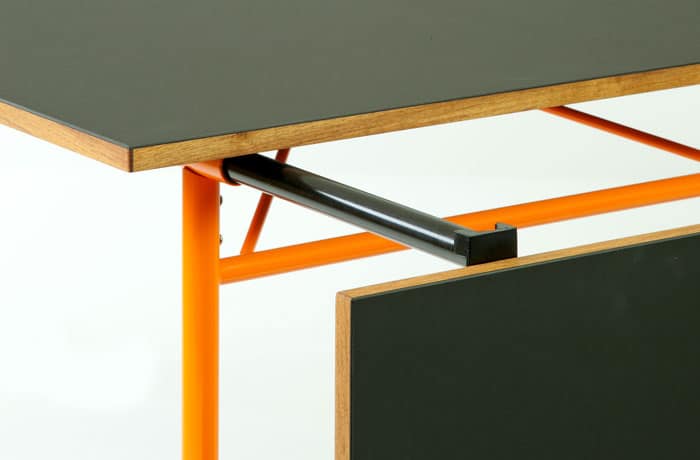 "A design characteristic of architect Finn Juhl is an almost floating lightness and simplicity in the expression – based on a rather complex technique", managing director at One Collection Henrik Sørensen tells us.
When One Collection had decided to relaunch the Finn Juhl dining table with an advanced draw leaf Linimatic was involved in the process to manufacture the suitable fittings for the leafs. The design of the leafs made high demands on among others the precision. The leafs of the table should be able to hang as well as lie – in a quite certain way:
"Often fittings are a necessary evil. But at Finn Juhl the fittings have a technical function and they are as well part of the visual design. This put some special challenges to the manufacturers. The more simple the things look the more complicated they may be to manufacture. This is actually what we have experienced".
Visual expression makes demands on the precision
"When manufacturing the fittings in die casted zinc we could get the wished visual expression – and at the same time have the high degree of precision. It was also possible to cast the Finn Juhl logo during the casting process – and by this we saved a procedure", Henrik Sørensen told us and continued:
"The cooperation during the process is highly a dialogue. Linimatic has some competences, which we do not have, and these were incorporated. Furthermore it is important that you feel commitment, passion – that the supplier also finds the product interesting".
The new Finn Juhl table is called "Nyhavn" dining table with leafs and has model no. FJ 5360. The table is supplied with steel frame in the colours orange, light blue and black. The table top is edged and veneered with teak, walnut or oak – or with black linoleum.
The table was exhibited at the design fair in Milano on 13 April 2015.
Illustrated photos of the Finn Juhl table are kindly lend by One Collection.
Please do not hesitate to contact Linimatic to strengthen your solutions and by this optimizing your possibilities.
We see it as our task to create Great Design together with you. Hence we wish to optimise the design with respect to its quality, finish, durability, functionality and price. Zinc's benefits can give you more value. We need to make use of this.
We are always ready to accommodate your desires. With a flexible, modern production setup, we have optimised the production of zinc parts of many variants, sizes and quantities. In addition, we have 24 hour production operation ready for your parts.
One of zinc's great benefits is that the need for postprocessing is minimal. However, we can as needed postprocess it with all the current methods such as grinding, punching and CNC machining. In addition, we can perform surface treatments such as chromate plating, lacquering, chrome plating and engraving, providing you with a handsome finish.
We can save you the administration, time and money by assembling your production from other suppliers for you. For example, we would be pleased to deliver assembled parts for a finished product, including packing, customer-specific packaging, labelling, quality controls, etc.